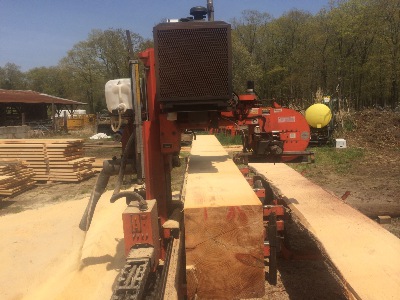 Most of my sawing is done with the Wood-Mizer® LT40HDD42 Super Hydraulic Portable Sawmill. The Wood-Mizer will load logs weighing up to 2 tons, as long as about 20 feet, and as large as about 36" diameter. From such logs it can cut boards up to 28" wide. The sawmill has a 42hp Kubota diesel engine and two hydraulic motors for fast log handling.

This mill is a band saw, whose blades take out slightly less than a 1/8" kerf thickness. This means you often get more lumber from your logs than would be obtained from a mill using a chain or circular blade. The cut can be very smooth, providing rough lumber to be used directly in siding and other applications.

I have sawn between 300,000 and 400,000 board feet of lumber in over 14 years with this mill. It is amazingly precise and your lumber will be flat and accurately sawn. I can saw timbers 20 feet long which are square and within less than 1/8" variation in dimension from end to end.

The amount this mill can saw in an hour is often limited by how fast customers can carry away the boards and roll the next log onto the loading arms. Production rate can be anywhere from 100-400 board feet an hour, and is usually between 175 and 250 board feet per hour over a sawing day. Production rate depends strongly on how much help the customer provides, readiness of logs, nice log diameters and lengths, straightness, species, and type of lumber being sawn. The customer has control of most of these factors and benefits from the higher production rate when ready logs and helpers are provided.