I saw full time, year-round, M-F and Sat. I do not usually schedule sawing on Sunday. I usually arrive at 7:30 am.

Weather: I may re-schedule if too much rain is predicted (usually more than 0.3 inches during the sawing hours), or if it is too hot (over 90 F in the morning), or too cold (under 10F and windy for example). Sawing is supposed to be fun.

Phone: 860-235-4504. Preferably 7am-7pm M-F and Sat, Sun 10am-7pm, but I'd like to hear from you.

E-Mail 24/7/365. dennis@terrifictimbers.com If you don't receive a reply the same day please check your "Junk" or "Spam" folder. Any doubts just phone me.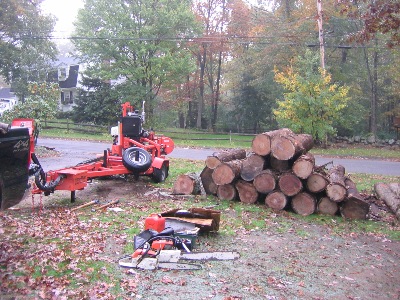 8 a.m. in Ledyard. White oak logs awaiting the sawmill-the beginning of an exciting day of outdoor sawing and camaraderie.

Quartersawn white oak air dried and ready for taking inside, rough-cutting for furniture parts, and further drying inside a home shop. The larger timbers on top of the front stack is false-cypress.