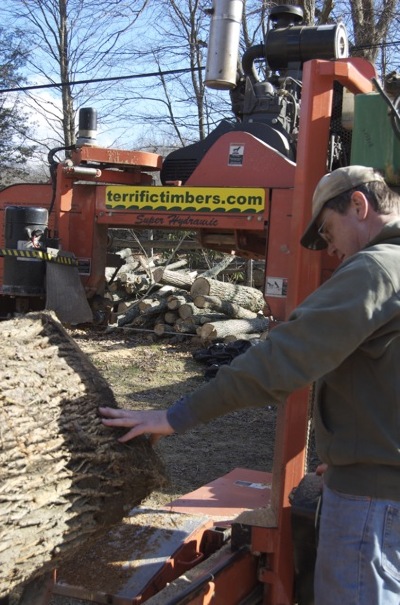 Here is Dennis getting ready to saw a 30" diameter ash log in Easton, CT.

Dennis has been a woodworker since he was a teenager. His first lumber sawing experiences were over 30 years ago beginning with chainsaw mills manufactured by Sperber and Granberg industries. In 2001, to really get more wood, he purchased a Wood-Mizer portable sawmill (manufactured in Indianapolis, Indiana), and has been sawing with it for over 14 years now, first as a hobby and since 2007, as a business.

Dennis has also been an organic chemist since 9th grade, when he touched a beaker for the first time. He studied chemistry at Goshen College (Goshen, Indiana), the University of Illinois at Urbana-Champaign, and Harvard University. He came to Connecticut in 1982 with Pfizer Central Research (Groton), and retired from Pfizer Inc in 2007 after 25 years as a drug discovery laboratory supervisor. He was back in the lab since then for a year working part time in a start-up company at the UConn Technical Incubator Program (TIP) facility at the Storrs campus.

In June, 2007, Dennis formed Terrific Timbers LLC, a portable sawmill service. As earlier with chemistry, this business also started as a hobby. He finds it rewarding to share what he enjoys with others, and is happy to share his woodworking and sawing experience with you.

One of Dennis's mentors, Nobel laureate and Harvard chemistry professor E.J. Corey, has said that organic chemists make "Something Valuable out of Almost Nothing". Sawyers do that too. They rescue beautiful and useful lumber from logs which might otherwise be burned, left to rot, or put in a landfill. Sawyers have been "green" before "green" was "green".

Dennis's other hobbies are fly fishing for trout on Connecticut's Farmington and the Adirondack's Au Sable West Branch rivers, bass fishing mostly on Lake Champlain NY, fly tying, and photography.